Catalog
Our news
Why we don't use plastic bags
Every year the plastic bags kills millions of animal and hurt to ecology of our planet. This article describes how we removed the plastic bags from our service
We started to work
Our service is working now and we will be glad to you. Please, come in. We prepared for you interesting products and functions. You can find more details in this article.
Сulinary blog



Hash Brown is a variation of a traditional American potato garnish. This dish is especially loved as an early breakfast due to its crisp and refreshing texture.
A feature of a hash brown is that it is prepared from potatoes without any impurities and components. Pure potatoes. It is rubbed thoroughly, and then the liquid is eliminated from it. That is why it turns out to be very crispy.
It's required next ingredients to cook potato hash brown. You can order some of them at our site at the links below.
4 potatoes;
butter;
ground black pepper;
salt;
Step 1. Wash, peel and grate potatoes
First, you need to rinse and peel the potato thoroughly. Next, we need a clean and dry dishcloth or thick paper towel. Dip it to the bottom of the bowl, and then grate all peeled potatoes into it on a coarse grater.
Step 2. Remove the liquid
You need squeeze all the liquid out from the potatoes by twisting of towel where grated potatoes is. Squeeze the maximum amount of liquid to cook the crispiest potato hash browns.
Step 3. Frying pan preparation
Use a pan with a thick bottom. Put 2 spoons of butter in the pan. The butter should melt, but not boil.
Step 4. Finish
Put the grated potatoes in the pan and mix it with the butter. Salt and pepper to taste. Then form the desired shape for hash browns. The shape can be square, round, triangular or in any other forms. The main thing is that the thickness of the hash browns does not exceed 1 centimeter. Fry potato hash browns both sides evenly. They prepare quickly: about 3-4 minutes is enough for each side. Remove them from heat as soon as the golden crust appeared. The hash browns are ready.
How to serve hash browns
Potato hash browns are often served as a side dish and with all kinds of sauces, best spicy sauce.
Related news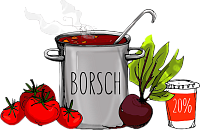 How to cook classical borsch
There are 70 types of Borsch. But we will describe how to cook traditional Borsch in 3 steps.
More details
Goods